With a roof over their head, father-like figures and the ability to go to school in-between training, Muay Thai can appeal to many youngsters from the poorer regions of Thailand. Where lots of young children can end up using drugs, getting involved in prostitution or working a life of hard labour.
The training is tough and the pressure is immense but they have a great opportunity to make it to the top.
There has been a lot of negativity about child fighters "being forced to fight for money" in Thailand, and so I decided to find out for myself what the lifestyle is really like for these young children. This project is to show the ups and downs, the friendships and the loneliness and what it takes to be the next world champion fighter in Thailand.
With Muay Thai, being the national sport in Thailand, top fighters can earn up to £2000 per fight. Their hopes and dreams are to earn money for their families and to become successful and famous. They are taught discipline, respect, loyalty and teamwork. Many of the trainers themselves may have also experienced this lifestyle in their youth and want to give something back.
These images give an overview of my recent MuayThai project with a focus on the individual subjects as well as their relationships in the context of their family/team structure and environmental conditions. Caught in moments of contemporary time, these pictures aim to showcase, using a visual and global language, their continuing story in often contrasting conditions.
Makeshift gyms inside a house will show the scale by contrasting size, shapes and ages. In the foreground, in the ring, the competing fighters are older role models for the younger kick-boxer looking on reflectively from the edge.
Their personal objects, the trainers scattered on the floor, show the importance of these items as their wearers are running long distances every day.
Texture is also shown in a typical gym floor that we can cast our eyes down upon when we see other necessary equipment that is used regularly in the gym – an empty bottle of ointment!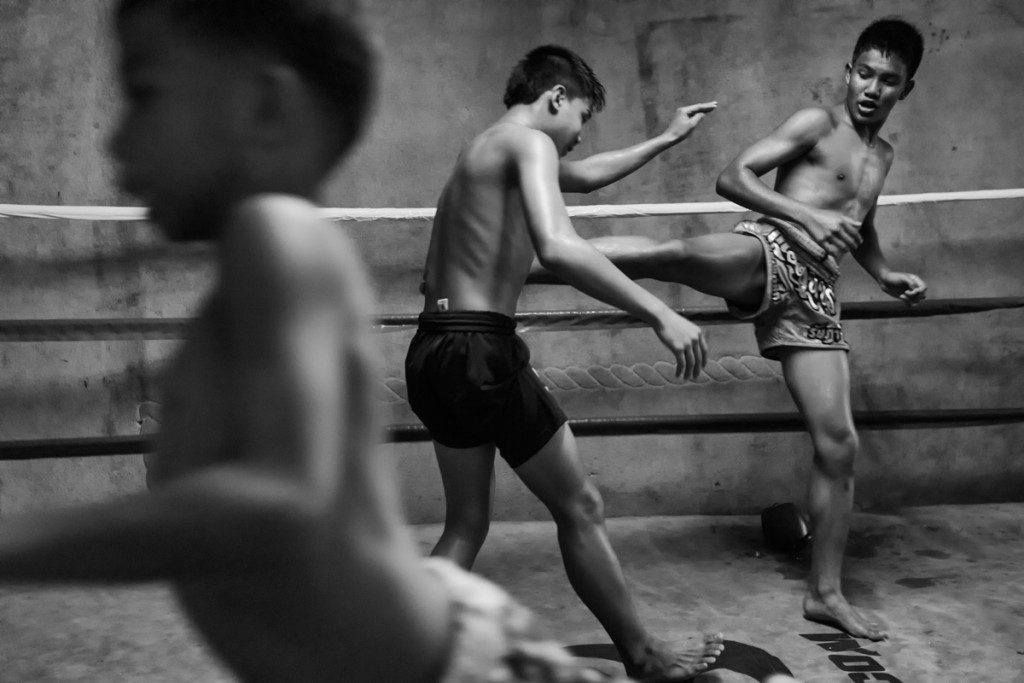 More important activity to complete… the exchange of money after a fight and the discussion between trainer and fighter of how it will be distributed?
The grabbing of the Mekong (the headband) shows the spiritual side showing respect to the trainer with a dance to show respect. The sweat representing how hard the fighter has worked in this relationship for the money.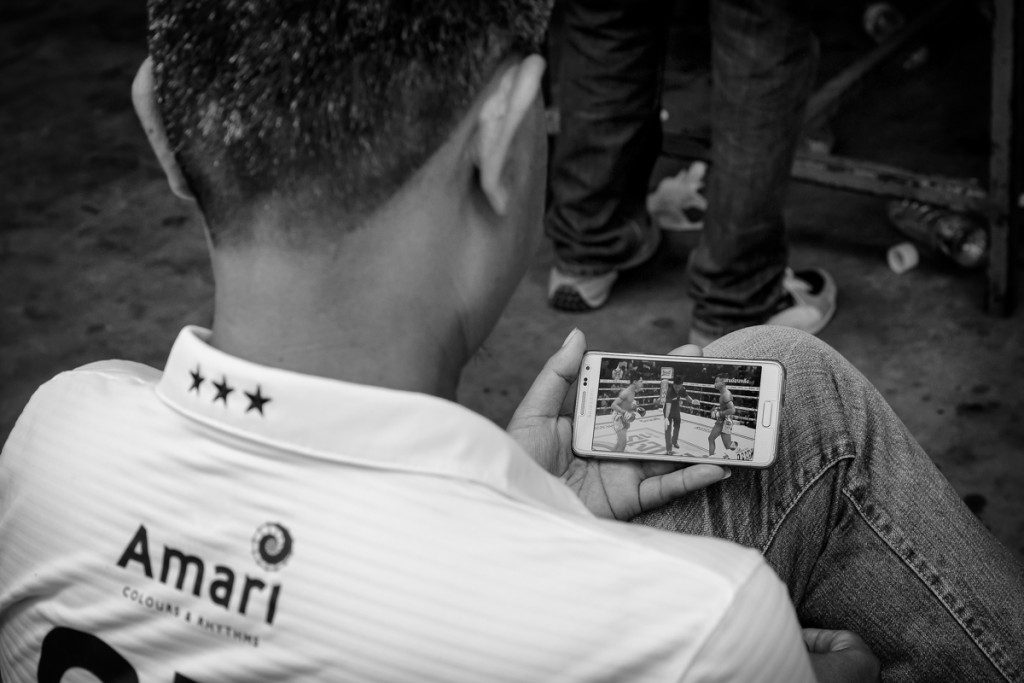 Ready for the next performance. Backstage a lonely young figure, anxiously waiting to fight with towel on head attempting to keep cool. The debris shown on the floor from previous fighting. Typical really of any TV studio back stage setting!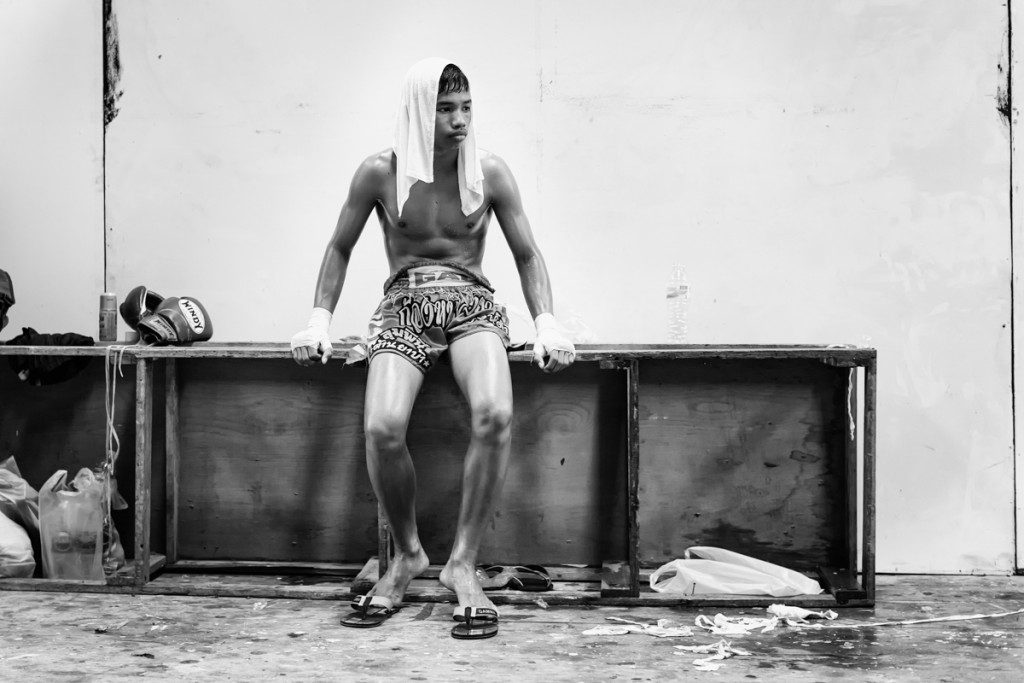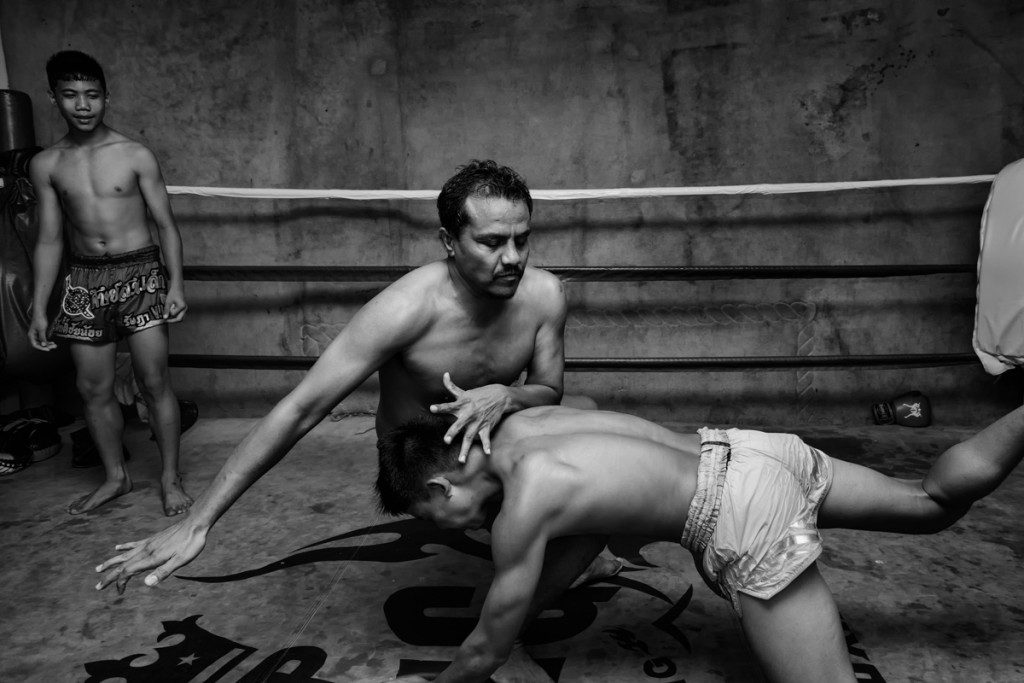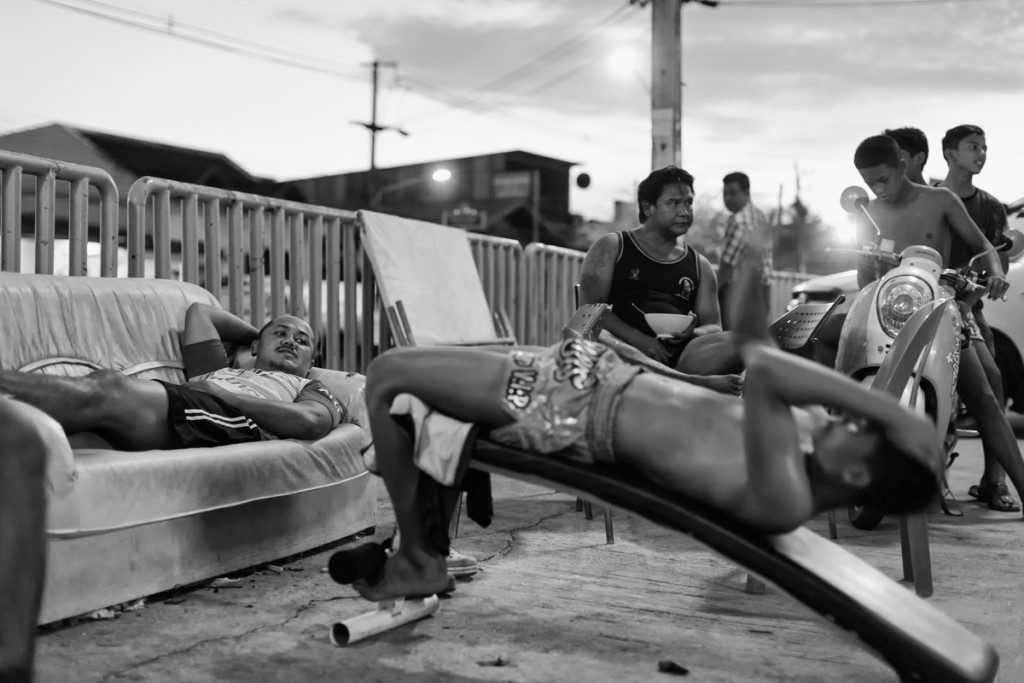 Muay Thai Kids by Lewis Inman